This site uses cookies. To proceed, you must consent to the use of cookies.
STYLES FROM £35 FREE DELIVERY* FREE EXCHANGES GET 75% OFF YOUR FIRST ITEM*
How It Works
Becoming A VIP Is As Easy As:
1. Take a Short Style Quiz
2. Get a Personalised Boutique
3. Shop, Become a VIP & Save
The VIP Perks:

Exclusive
VIP Pricing
VIPs enjoy exclusive, member-only pricing on all full-priced styles.

Exclusive
Deals
Private sales, special collections and fabulous events.

Free Delivery.
Free Exchanges.
Free delivery on all the orders £35 & over. Exchanges are free, and returns are always easy.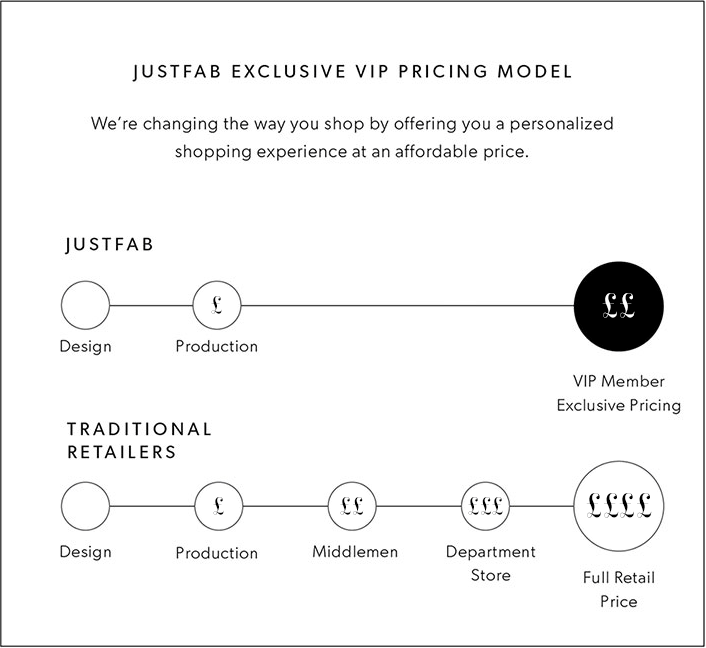 How VIP Membership Works

Monthly Personalised Boutique
Receive new styles on the 1st of every month. Browse and buy your favourites!

Shop or
'Skip The Month'
If nothing catches your eye, simply click the Skip The Month button in your Boutique by the 5th.

VIP Member Credits
If you do not make a purchase or skip the month by the 5th, you'll be charged £35 for 1 member credit on the 6th. Each member credit can be redeemed for 1 style valued at £35, so you can use it to shop later.
'How to skip the month?'
Your credit card will not be charged,
if you 'skip the month' by the 5th of each month
If you're not ready to buy, simply log into your account by the 5th and click the 'Skip The Month' button, so that you will not be charged. You can skip as many months in a row as you want!
Justfab Reviews
Gail
Newcastle
'I absolutely love the Wilema boots. The fit is amazing and they can be worn all day without hurting your feet. Best boots I've ever had!'
Suzanne
Mablethorpe
'The Bleached Hem Mid Rise Flare is my favourite pair of jeans. They look amazing, feel amazing and fit perfectly!'
Kelly
Rainham
'I'm so pleased with these must-have jeans. They're comfortable, flattering and true to size.'
Kim
London
'The Knit Crossover Jumpsuit is a classic: professional and just WOW!'
Anne-Marie
Coventry
'This is my first shop with JustFab and I'm really pleased. The Cold Shoulder Dress fits in all the right places to show off my figure, and yet, remains comfy and loose. Goes great with the over-the-knee boots I bought with it!'
Pragya
Peterborough
'The Cody bag is just gorgeous. Awesome colour and style - big enough for work and play! I'm really happy with my purchase.'
Francesca
St Helens
'The JF Stacked Up Bangle adds light to any outfit, transforming a normal office outfit into one for a night out on the town. I love it!'
Lindsey
London
'The Ameelia boots are absolutely stunning! They fit like a glove and look very on point. Another fantastic style from JustFab!'
Rebecca
Liverpool
'The Kesnia shoes are amazing! They're true to size and you can dress the up or down. They're very, very similar to the Valentino ones, which I love!'